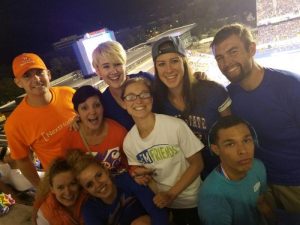 The mission of JEMfriends is accomplished by many volunteers who give their time and abilities to be a blessing to the JEMyouth.  Those who want to volunteer can choose an area to serve in that fits their abilities and interests.  These are a few examples of the areas that volunteers serve in.
Providing Life Skills Class dinners
Providing community by being a youth's mentor or participating in youth activities
Hosting or helping to accomplish an awareness event
If you are interested in volunteer opportunities with JEMfriends, please click the button bellow to fill out the volunteer application form.  Feel free to read our volunteer page, or e-mail Natalie Williams at volunteer@jemfriends.org if you have any questions.
JEMfriends volunteers serve in many different capacities to keep our program going.  Some are mentors, some give our youth opportunities to intern, others teach life skills classes, many help accomplish awareness events, and still others help in the office.  The opportunities are quite varied, and we strive to place each volunteer in the area of service that best fits them.
If you are considering volunteering for JEMfriends, we first want to thank you.  We would like to get to know you and to get you involved.  The first step you need to take is to fill out our Volunteer Application Form by clicking the button below and indicating areas of volunteering you have interest in.
Once your application has been received, you will be contacted by our volunteer coordinator.  Those interested in mentoring will be e-mailed the full Mentor Application, and those interested in an internship position will be e-mailed the Intern Application.
Current Volunteer Opportunities
Due to COVID-19, many of our usual volunteer opportunities are not available. Please send in a volunteer application to connect with our Volunteer Coordinator and get our monthly opportunities newsletter to stay up to date on what we have going on!
Life Skills Class Dinners
We facilitate Life Skills Classes for our youth two times a month, on first and third Thursday evenings.  We provide dinner for the youth at these classes, and we would welcome help to accomplish this responsibility.  If you love to cook, this is a great opportunity for you to be a blessing to our youth.

Details:
Dinners should be prepared for 10 Adults.
All Dinners will need to be dropped off at 5:30 pm to the JEMfriends' Office:
1111 S. Orchard Street Ste. 101 Boise Idaho 83705
Don't have time to prepare a meal? You can purchase a $50 gift card to a local grocery store, pizza place, or sandwich restaurant!
For questions, please contact

 

Melissa Wood, Life Skills Program

 

Coordinator, at 208-283-5107.