Liberty (Barrett) Thompson – Founder, Executive Director
Liberty grew up in the Boise, Idaho area as the third of seven siblings.  From a young age, she demonstrated a concern for the orphans and friendless and pursued friendships with those overlooked by others.  In 2008, Liberty founded JEMfriends with the vision that each youth aging out of foster care would have opportunities to flourish in a society that understands their adversity and supports them in becoming loving adults.  Currently, Liberty serves as executive director for JEMfriends, leading several programs that support aged-out youth, positively engaging many youth through personal mentoring and coaching, and increasing awareness of the needs of these youth.  She is enthusiastic, motivated, and creative in her leadership of the JEMfriends community.  Her life goal is to passionately serve others as Jesus did and to love without overlooking anyone.  
Mikayla Lee – Executive Assistant
Mikayla is a Boise, Idaho native.  Way back in 2017, she graduated as a homeschool student and is currently learning more about audio production at Calvary Church and online.  She loves to stay busy so she works multiple jobs – as Covenant Academy's Athletics Coordinator, as CSAA League's Scheduler, and as a Production Assistant at Calvary Boise Church.  She also thinks snowboarding is absolutely fabulous and loves to go up to Bogus as much as she is able to.  She enjoys contributing to JEMfriends by being Liberty's assistant and helping her crunch the numbers.
Natalie Williams – Volunteer Coordinator
Natalie is an Idaho native and moved to Boise from Northern Idaho to become a part of the JEMfriends community. She has had quite a few interesting jobs, but in each of them she has loved working with people, connecting with them individually, and sharing her faith with them.  She loves hanging out with friends and family, meeting new people, painting, reading, hiking, filming ridiculous music videos, and working on cars. Her dream is to eventually start her own non-profit for young women.
Melissa Wood – Life Skills Class Coordinator
Melissa Wood grew up in Boise and attended Capital High and BSU.  She then spent two years in Peru as a Peace Corps volunteer.  For ten years after coming back to Boise, she was involved in Rotaract and helped establish and facilitate a Rotary club, while working in real estate and agent services.  Melissa heard about JEMfriends through her dad and his Rotary club.  The ministry of JEMfriends peaked her interest, especially after having attended a foster care informational meeting at St. Alphonsus.  She is enthusiastic about coordinating life skills classes, getting to know the youth, and making a difference in their lives.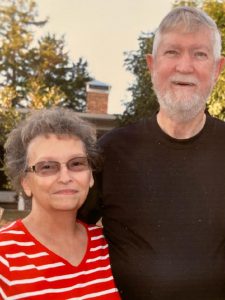 Bud Preston – Maintenance Director
I taught all levels of mathematics at the high school and junior college from very basic through second year calculus. Both Linda and I  really found our calling working with and loving young people.
Linda and I together have close to eighty years in the classroom working with kids from 7th grade to adults in the Air Force trying to get a degree.
When we became aware of the plight of young people aging out of foster care we were quite concerned. Shortly after arriving in the Treasure valley, we were looking for another place in which we could serve and at the Meridian library we were introduced to the JEMfriends program.  Both of us were convinced that this was a program which truly deserved our commitment.  So, we have committed whatever talents and abilities we possess to further the work and goals of this inspired program.
Lisa Shaffer – Party Coordinator
I have a husband and two children, Brett, age 23 and Drew, age 31.  I have two grandchildren; Adeline age 4 and Theodore age 3.  I enjoy the outdoors and spend time hiking, swimming and travelling.  I love to cook and do crafts.  I like to scrapbook, sew, read, write, and spend time with my family
I became involved in the JEM Friends program in 2018.  I was in a meeting and they were sharing information about this program who served youth who had aged out of foster care or did not have family to support them after they turned 18. These stories touched my heart.  It gave me a passion to get involved.  
RESIDENT ADVISER STAFF
Ivy Gilbert – Girl's Home  Resident Adviser
Elisa Knudsen – Girls Home Resident Adviser
Interested in becoming JEMfriends staff member? Let us know! Our resident adviser position provides so many opportunities to minister to JEMyouth, learn more about social work, nonprofits, and develop life skills.
Reach out to Liberty at (208) 863-0222 or liberty@jemfriends.org